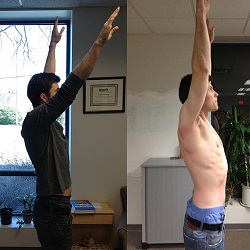 When I first came to see Dr. Chris, I had pain and stiffness in my shoulder and couldn't lift my arm overhead. It was extremely frustrating.
After a of couple treatments with Dr. Chris, my range of motion improved. After a few more treatments I could finally lift my arm overhead and the nagging pain went away. These results continued even after I stopped receiving treatments.
I strongly recommend Dr. Chris for anyone experiencing nagging pain, stiffness, or limited range of motion.
Jeff G. (age 35)
Pharmaceutical sales
Morristown, NJ