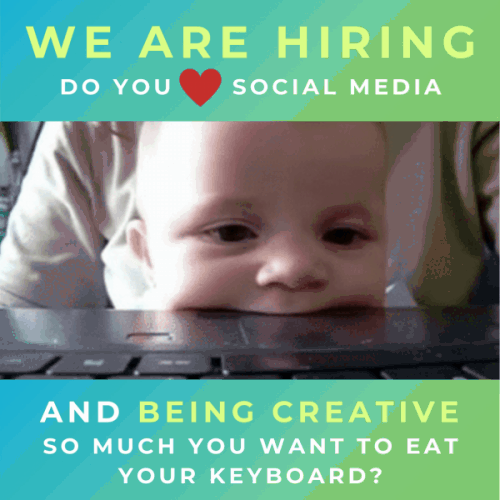 11 Mar

HIRING: Full-Time – Social Media Bad-A$$ & Content Creator

Updated 8/20/22

**Hey there, you probably have friends who would love this opportunity. Please feel free to share with anyone you know who sounds perfect for this job!! We're looking for a long-term, full-time content creator who lives near Denville, NJ (to come to the office to help us record content)

Anyone who helps us find the person we are looking for will get $1,000 Finder's Fee after the individual has been with us for 2 months!

—

✅Do you love HUGS, social media, technology, and being creative?

✅Have you always been into health and wellness?

✅Do your friends and family consider you as someone who always wants to help other people? Who will do whatever it takes to make someone SMILE?

We're looking for a super positive & bad-a$$ content creation and social media savant for our rapidly growing pain clinic in Morris County, NJ where people from hundreds of miles come for healing.

Odds are this job is not right for you. We're looking for a Unicorn who has certain magical qualities.

But, if you happen to posses the skills and personality traits we're looking for, this may very well be your dream job. Seriously.

You'll have the opportunity to work with the freedom to make your own schedule while being part of an organization that has been making a massive, positive impact in the lives of thousands of people since 2010.

You will be the primary creative communicator for Barefoot Rehab on all platforms:
Instagram
Tiktok
Youtube
Facebook
Email marketing
Some of the details you'll be responsible for:
creating images through photoshop or canva,
creating videos through Imovie, Zubtitle, or some other software,
project managing our editorial calendar for when to post and organizing doctors for shoots
posting on Instagram, Facebook, Tik Tok, Youtube, Linkedin
writing copy for content and email blasts
helping to record videos with an I-phone for content in the office
responding to comments with people who engage with us and learning how to hav
effective conversations (in comments & over DMs) so we can help people suffering in pain.
In short, you'll be the Virtual Liaison between our clinic and the world to start. We want this to turn into a Marketing Director position. We'll call you, the Marketing Unicorn for All Those Who are Suffering.
You don't need to know everything about how to do the above (although if you do, your pay will be higher to start), however, you should be comfortable with technology and social media.
You'll need to show a track record of being able:
learn on your own and learn very quickly.
proactive
excelling above average & wanting to be the best
being like-able & charismatic to effectively lead our team to help you create content
to take massive action.
We'll train you on our revolutionary core content about how we fixing chronic pain. We are extremely flexible with mistakes, although we don't expect you to make the same mistake more than once.
But before we go further, I have a WARNING: I'm not the easiest person to work with. In fact, I'm very challenging. I move fast. I'm impatient. I don't like mistakes.
Some people see me as "cold", "too blunt", or "short" in my interactions. That happens because I have a demanding schedule working with other high-performers who require me to be at my best.
Listen, neither you nor I have time to waste. There's no room in our schedules for long conversations about irrelevant items, or room for error or miscommunication.
You need to operate at a high level and have impeccable written communication skills so that nothing falls through the cracks and our team will count on you to get our Revolutionary Healing Message out.
All that said, you must be the type of person that thrives in this fast paced environment, and keep all of our projects running on schedule.
Once you're fully up to speed (2-3 months), you'll be responsible for developing your own content creation strategy with customer interviews (reaching out to speak with our actual patients and people who have pain, but haven't been into the office yet). That's a significant effort, so be sure you're ready to commit this kind of workload.
If you're the right person, this could be a great role for you.
ABOUT YOU:
We're looking for someone who LOVES helping people and notices patterns in other people. If you see a post from your friend who says, "It's rainy outside" and you intuitively know that she is dealing with depression, then you are someone who sees patterns!
You genuinely care. It's not just felt, but expressed. Our patients' success is yours and every patient you help us see through social media is a life that YOU have transformed. You'll bust a gut to help people suffer less.
You're proactive. You don't wait. You take initiative. You ask. You act. You look for ways to do more than expected.
You're a team player. We're not looking for rockstar performers, so much as rock solid partners. We call ourselves "Heal Team 6"
You'll be expected to work closely with our doctors, staff, and patients. You'll notice when your teammates could use some support, and you'll offer to help.
You show integrity. You make a promise and you keep it. When you say you'll do something, it gets done. You meet expectations. You believe in being true to yourself and your word. Every action you take is 100% legal, ethical, and would make you proud if you saw it on the 6 o'clock news.
You're confident. Patients are looking for help and leadership. You're a great communicator and a confident human being.
You've got energy to burn. You lead with your energy. You meet people where they're at, and create a space for them to feel heard and seen as human beings.
You make it better. Most of all, you'll be committed to delivering a world-class social media experience for our clinic. You'll be comfortable driving change. Not just for our patients, but help us constantly improve the way we deliver our very important message to our clients. (We'll expect you to raise issues or challenges as you see them, and actively participate in creating solutions.)
You take ownership. You take ownership, accountability, and responsibility. (There is no blame, excuses, or denial around here.)
You show up like a pro. You represent me, and you represent our clinic to the world. You look and sound great on Facebook, on Zoom, and in person (even when you're wearing shorts and barefoot.)
You have a strong desire in self-development and want a career. You want a long-term position and want to grow your skillset and income as the clinic grows.
HOW TO APPLY:
Do ALL 3 of the following:
1) MAKE A VIDEO:
Introduce yourself to us. Shoot a short video telling us why you want this job. We want to see how quickly you can learn, so add some type of design (maybe a header to your video) and captions to your video like THIS ONE. Feel free to use services like Wrappr or Fiverr to help you.
Address ALL of the bullet points below:
Why you want to work as our Virtual Liaison to help people suffering in chronic pain
Tell a story of a time you:

learned something fast because you were passionate about it OR.
helped someone that made you feel good.
(It's not a feature-length movie, 3 minutes will do!)
2) MAKE A GRAPHIC PICTURE
Create a text based picture or an image with text (canva works great for this) of a health/wellness theme we speak about on our social media platforms that we would post on our feed.
3) COPYWRITE for the GRAPHIC PICTURE
Write copy to support your image that could be posted on Instagram.
We will want to see proper call-to-actions at the end of the post and proper use of hashtags.
—
We value your ability to speak on a 4th grade level and connect with people. **We'll pay you $40 just for applying and strictly following the directions above. We're committed to finding THE BEST person for this position.** Video production values aren't as important, but take some time with your application. There's no prize for first, we're looking for how you show up.
Send an email to delight@barefootrehab.com with the subject line "I'm a fucking unicorn" with your application and content. You'll be expected to live in the Morris County, NJ, area.
There are 3 current tiers for pay:
Probationary period (Months 1-3): $17-$20/an hour
Level 1 (Months 2 – 6): Base salary will be between $3000-5000/month after the probationary period. Salary is negotiable based on current level of skill and ability to perform. Your salary will increase as you help to grow our clinic.
Level 2 (Months 6 and on): Engagement & Growth Incentives will kick in to bring your Year 1 income Base salary to be between $6,000-$10,000 a month based on performance.
We expect the right candidate to make a minimum of $6k/month by the end of the first year.
This position is excellent for a self-driven, empathic, creative who wants their career to grow with our pain clinic.
We'll let you know we've received your application. After that, you probably shouldn't expect to hear from us until the application deadline has passed. We want to give everyone who's interested in a fair chance to apply and be evaluated.
We can't wait to meet you!
Dr. Chris & the Heal-Team 6 Staff