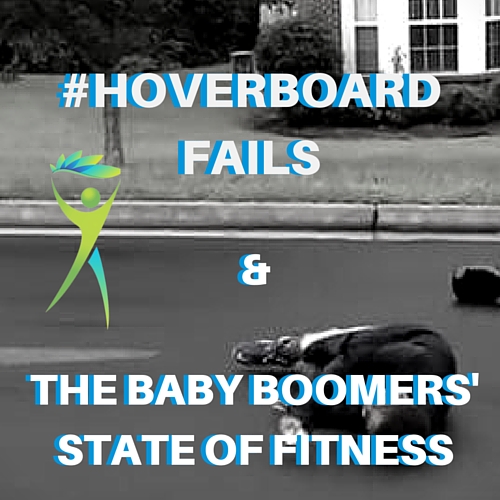 28 Dec

Dads Fail at Riding Hoverboards: A Look at The Baby Boomers' State of Fitness?
ERs across the nation are filled with our poor, uncoordinated fathers.  ~Buzzfeed writer Rachel Zarrell
The 2015 holiday season is going down as the year that Hoverboards crushed Dads, according to Buzzfeed and the rest of the social media stratosphere.  #hoverboardfails
Moms are laughing at their all-too-incompetent husbands as children blush with embarrassment.
While families can't help but snicker and share what the dads have become, the chronic-pain-resolution doctor in me is wondering "What does the Embarassing Father Fiasco of 2015 say about The Baby Boomers' State of Fitness?"
Writer's Note: It is apparent to the writer that the Baby Boomer Generation is older than the adults who are falling all over the place.  The term "Baby Boomers" is used here because the added 10-20 years above the adults who are breaking arms left and right adds a pain point that is likely to motivate individuals to ACT and CHANGE BEHAVIORS.  Our primary purpose besides engaging the reader is to cause health and fitness in whatever capacity we are able.  
What is Fitness: It is Coordinated Hoverboard Riding.
Fitness is the ability to do whatever you may request of your body to do, now or in the future.
That definition includes coordinated hoverboard riding.
NOW, you have a daily routine.  You wake up, get ready for work, pick up your young kids and carry them around when they're too tired from walking, do the minimal amount of exercise that you can do to get by on the cardio-machine of your choosing, and accumulate extensive hours of sitting on the apparatus we call a "chair."
But what about the FUTURE?  If you're like most adults, you can imagine wanting to hold and carry your grandchildren around, playing your favorite sport of golf, gardening outside in the sunshine, or wanting to do some activity at a later time that you will need a baseline level of activity for.
The desire to live freely and for as long as possible causes us to rethink our current state of musculoskeletal fitness and health and ask, "Is my fitness program covering my possible fitness requests for the future?"
As evidenced by the Hoverboard Epidemic of 2015, I'd guess not.  

You can't build the third floor without a first and second floor.
According to the House of Fitness Metaphor expertly drawn for you below, a well-rounded fitness program addresses all ten attributes of fitness, starting with flexible and coordinated movement of the basic movements: the squat, lunge, push-up (first floor competency).  As ability increases with the basic movements, you can begin addressing second floor competency that allows you to perform the squat, lunge, and push-up with added load (strength) or perform longer bouts of repetitions with good form (stamina and accuracy).  Only when we've proved proficiency with added load or repetitions should we begin to address the third floor level attributes of agility and balance.  Those are the exact attributes responsible for preventing #hoverboardfails of Dads everywhere.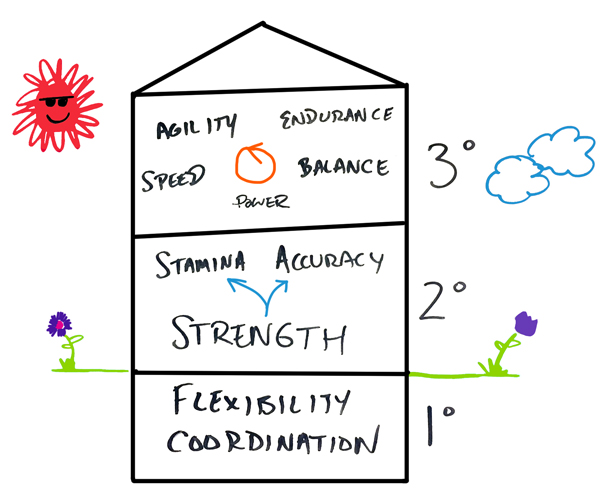 You can't build the 3rd floor of your house without a first and second floor.
You can't hoverboard at fifty or sixty years of age unless you've conditioned your body to be able to handle the level of fitness you're asking of your body.
Stop embarrassing your kids.
How can you build your house-body to allow you to be a part of the Great Hoverboarding Success of Christmas 2016? Please share comments below.