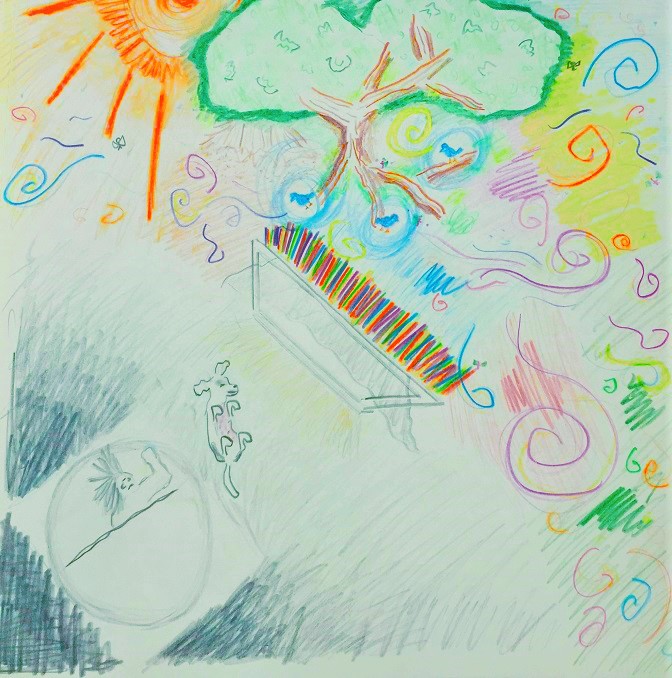 25 Jun

Don't Worry About A Thing: Remembering Depression + A Message from Bob

Author's Note: I've been resisting writing about anything but physical pain + physical conditions on the Barefoot Rehab blog for some time now. After all, what we do at Barefoot Rehab is get people out of physical pain caused by adhesion. We get paid well to do just that. As I resist, I continue to have a snowballing feeling about going deeper with people. My last post on how a patient told me to f*** off allowed me to have conversations with individuals that left me feeling deeply connected over pains, tears, and suffering.  As I continue to heal myself, I can't help but feel we are all here to help each other heal.  To become one.  Physically, mentally, emotionally, and spiritually.  In case you're thinking it, it is true. Sometimes physical pain is caused by emotional + spiritual reasons. With that said, I write …

… 

Man … I'm a worrier. I ruminate.

I feel guilty quite often.

And I'm really good at punishing myself.
A Story of Depression
As an adolescent, I punished myself through exercise.
In high school, on Saturday nights, when I knew that my classmates were out partying, being adolescents, + connecting with each other + with the opposite sex, I was running up + down the stairs in my home.
Telling myself over and over:
Chris, you don't deserve to connect with others. You don't deserve to be happy. You don't deserve to have a girlfriend. You need to feel pain.  Run up and down these stairs longer. Don't stop.  This is what you deserve.
As I write this, my eyes are teary, which makes this memory very real in my mind.  I sometimes forget how I abused myself, being a member of a 3-person club in high school called "The I Suck Club".  We all thought we were joking.  We laughed about how "we sucked" in life.
Looking back, I see that it wasn't a joke.  All three of us really did think we sucked.
One of those friends took some pills and ended up in the hospital as a cry for help.  I view this occasion as a wake-up call for him and he soon stopped saying "I suck."  He now occurs to me as someone who is quite fulfilled in life.
The other friend, to this day, occurs to me as someone who lets life happen to him instead of his grabbing life by the balls + going after what he wants.  While he doesn't say "I suck", I imagine he still says it in his subconscious.  We don't speak much anymore + I haven't had an opportunity to ask him if this might be true for him.
For me, as a senior, I was voted "Most Friendly" in the class.  No one knew that what others thought of as "friendly" was really thick fucking "nice" armor (please forgive my language, but I feel the urge to emphasize with a strong adjective) out of not wanting to feel any more pain + not wanting to rub people the wrong way.  As as a results, I was a doormat that occurred as "friendly" to people.
In college, I sucked more.
I drank heavily.
Alone.
Until I threw up or pissed on my computer, on my bed, or any other random object, which happened more often than you would think.
I threw my body around on the football field like I didn't have a concern in the world. I really didn't. My teammates respected me for it. People don't know what to make of you when you act irrationally, living like there's nothing to lose.
I paid a heavy price for that way of being.
Self-worth. Connection. Happiness. Love.
The violence of football wasn't enough.  So I was violent to myself.  I began burning myself or getting my teammates to whip me with bamboo sticks.  Or I'd get drunk and walk into the bad part of Lancaster, PA (which wasn't really that bad), where I went to Franklin and Marshall College.
And I'd try to get jumped + beaten up.  Think of suicide by cop, but more like an ass-whooping by hoodlums.
My roommates made fun of me because my parents would buy me nice clothes to wear each holiday.  I had them stuffed in a suitcase that I wouldn't wear to class. I only took those clothes out to attempt to get beaten up, literally.  I thought those clothes would symbolize to people who had less than me as having more (money, clothes, I-pods) + would see an opportunity for themselves to easily take those items away from me as I stumbled down the street.
I never got jumped.
I did fall asleep in alley ways in that part of town.  The worst that happened was when the cops found me, drove me home, and told me "You should see a therapist" as I cried to them about my self-torment.
On another occasion, I was with a friend when four young teens on the street asked me "What time it was?"
I took out my cell phone + told them.
One of them asked "Can I see your phone?"
In a ten-beer-deep state, I handed my cell phone to him. He continued to put it in his pocket + walk away. The chase was on after I sprinted after him. When he realized I was going to catch him, he threw it at me, put his hand in his pocket, + said "I have a gun".
I lifted up my shirt + said "Just watch out for my kidneys" as a light-hearted joke.
Looking at me with confusion, both parties walked away in opposite directions.
When it comes to the pain I experienced in college, I remember drinking heavily, lying the 24″ speaker I had in my bedroom on its side + putting my head on it as I laid down in a fetal ball.  I listened to the darkest music I could find, which was usually the Nine Inch Nails import I had that started with the woman screaming in pain as her sexual partner inflicted harm onto her body.
Ha. I can't believe I'm writing this.
… I'm pausing to reflect … … I continue …
This story does have a happy ending.
It was soon after this time, while still living in the same room in our house in college, that I became aware of my self-suppression + took down all of the negative affirmations I had on my bedroom walls.  Things like below, written circa 2005, where I relived the "watch out for my kidney" experience.  I keep it as a reminder: when my mind gets cloudy, I've tempered way worse storms.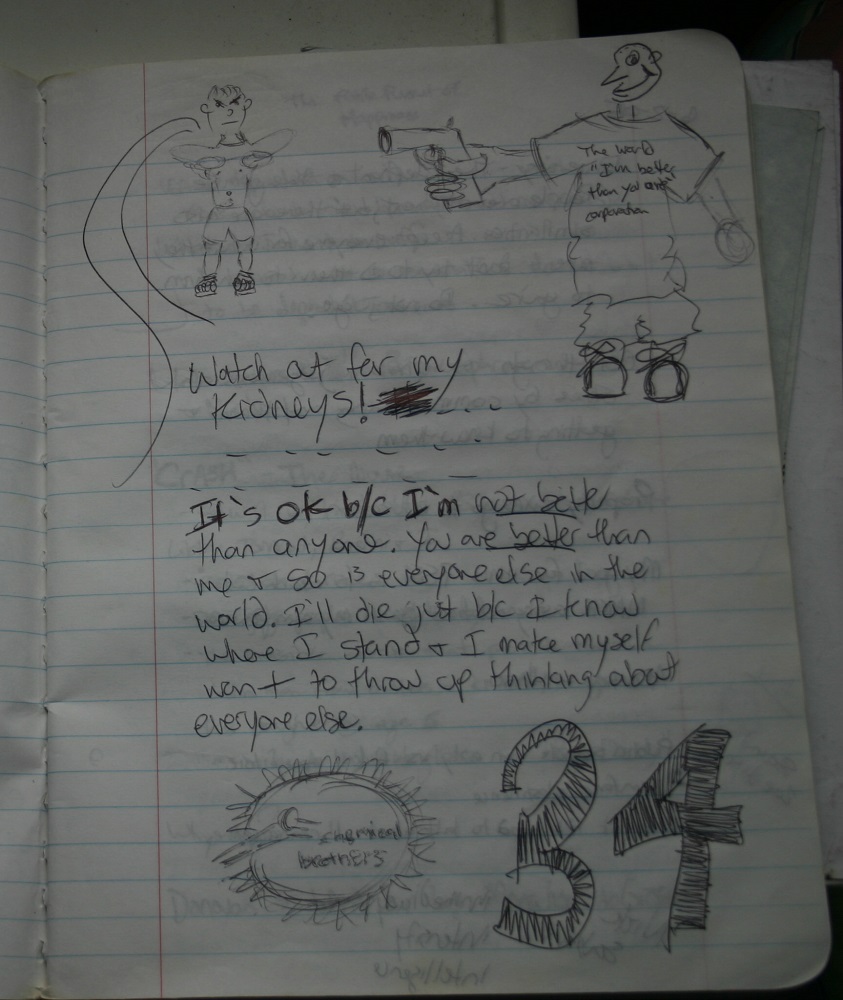 I was 20 years old when I took my foot off my own throat.
I've been walking out of that deep, dark valley ever since.
Why Am I Writing This?
Hurt people hurt people. ~Someone helpful.
At 31 years of age, I'm so much happier than I've ever been.  I feel daylight on my skin almost every day.
Really.
However, I'm still often surprised how often I dip into the darkness + hurt other people.  I have the strong conviction that only "hurt people hurt people".  Meaning, individuals who were hurt in the past don't know how to deal with life + can't help but hurt more people going forward.
And I'm so sorry for all of the ways I hurt people.  Especially people I really care about.  Especially especially (doubled for emphasis) my girlfriend Katie, who I love more than anything in the universe.
On these occasions the ho'oponopono mantra as expressed in Zero Limits: The Secret Hawaiian System for Wealth, Health, Peace, and More (affilitiate | non-affiliate) helps me enormously.
I'm sorry. Please forgive me. I love you. Thank you.
Then, the pain I inflict on others comes full circle + brings me back to the beginning of my story, where I worry + ruminate, feel guilty, + punish myself further by taking away the very conditional love that I've been expressing to myself in this life.
Two serendipitous moments happened over the past two weeks.  Both involving Bob Marley + one of his songs.
Bob spoke to me.
One was through a man.  During a medicine ceremony, he sang "Three Little Birds".  I was in heaven, listening to him serenade me with this unconquerable truth that "things are gonna be OK".
Then, at a Qi Gong teacher's certification last week with Master Yang Yang from the Center for Taiji + Qigong, we danced to the "Three Little Birds".  I couldn't help but ask myself, why is this hitting me so hard? What am I worrying about that I can let go?
If you don't know the lyrics, they are below.
If you have five minutes, I invite you to listen to Bob. Become aware of all of the ways you punish + take love away from yourself.  Then, stop worrying.  Because every little thing, is gonna be alright.  And if I can serve you to take away your pain, or even just sit with you as you work through your suffering, I'm in Parsippany.  All you have to do is walk into our office.
"Don't worry about a thing,
'Cause every little thing gonna be alright.
Singing' "Don't worry about a thing,
'Cause every little thing gonna be alright!"

Rise up this mornin',
Smiled with the risin' sun,
Three little birds
Pitch by my doorstep
Singin' sweet songs
Of melodies pure and true,
Saying', ("This is my message to you")

Singing' "Don't worry 'bout a thing,
'Cause every little thing gonna be alright."
Singing' "Don't worry (don't worry) 'bout a thing,
'Cause every little thing gonna be alright!"

Rise up this mornin',
Smile to the risin' sun,
Three little birds
Each by my doorstep
Singin' sweet songs
Of melodies pure and true,
Sayin', "This is my message to you"

Singin' "Don't worry about a thing, worry about a thing, oh!
Every little thing gonna be alright. Don't worry!"
Singin' "Don't worry about a thing" I won't worry!
"'Cause every little thing gonna be alright."

Singin' "Don't worry about a thing,
'Cause every little thing gonna be alright" I won't worry!
Singin' "Don't worry about a thing,
Cause every little thing gonna be alright."
Singin' "Don't worry about a thing, oh no!
'Cause every little thing gonna be alright!"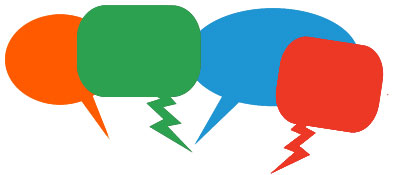 How do you worry + stop loving yourself? Have you been in depression before? I'd love for you to share how you put yourself down + how you can walk the path, with me, to loving yourself.  We all need to stop worrying so much.