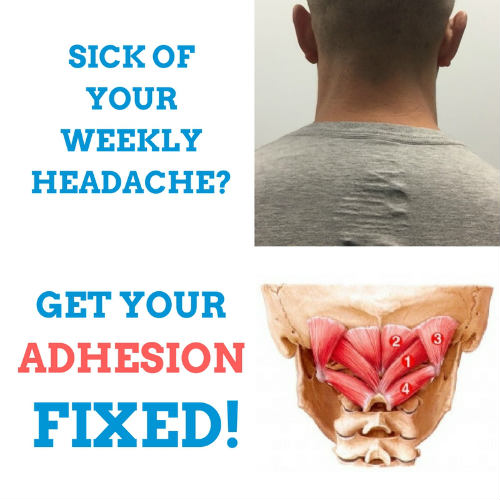 14 Nov

Sick of Your Weekly Headache? Fix Your Adhesion.

Most people think their headache comes from staring at a screen or sitting too long.

Or, they'll say:
I carry my stress all up in my neck.

Gimme a glass of wine.
While there's truth to these statements, there's a more common denominator to headaches than postures or stresses.
It's the most common cause of all stubborn pains that's very easily fixable (by the right doctor) and no one's talking about.
So if you've had headaches for more than 6 months, even though you've seen 3-5 other doctors or therapists, you're in the right place.
Adhesion – The Cause of Your Headache
If you have actual migraines with auras, you can stop reading now. Your "migraine headache" is NOT caused by adhesion.
You! The one with the headache AND the neck pain and stiffness!

This blog post is for you.
You see, you have these muscles deep underneath your skull called the suboccipital muscles.

When they have adhesion in them, they prevent you from creating a "double chin" in the Chin Tuck Test.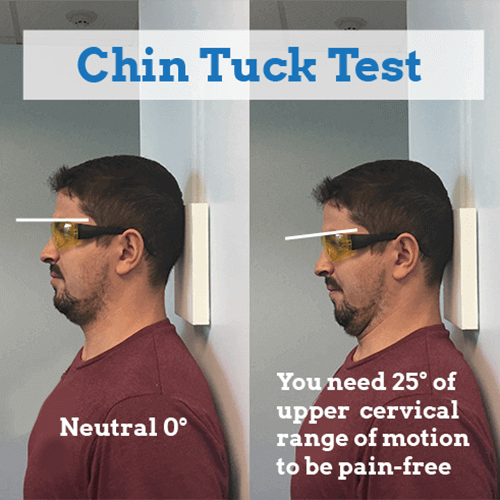 You might be thinking:
That's OK. I've actually been working all my life NOT to have a double chin.
The problem is that you really DO want to be able to create one of these types of double chin.
Having 25 degrees of range of motion and no stretching/pulling during the Chin Tuck Test tells you when these tiny little muscles are healthy.
If you feel restricted or have more than a little stretching/pulling, well, then you have adhesion. The good thing about adhesion is that it is 100% fixable.
Find Out If You Have Adhesion Right Now!
Go ahead and stand with your back against a wall.
Slide the back of your head up the wall as you tuck your chin in.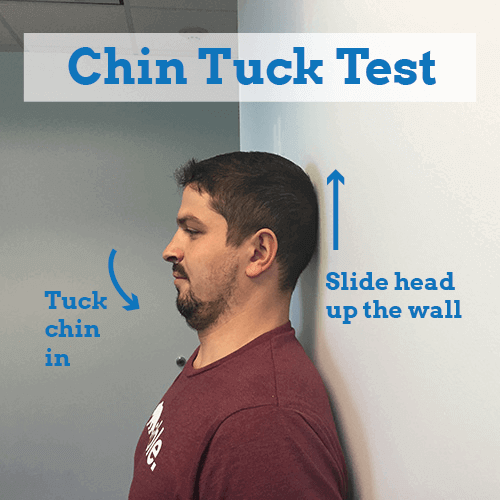 If you can create a really awesome double chin and you feel little to no stretching/pulling, then your suboccipital muscles are NOT a problem.
If you feel restricted or have more than a little stretching/pulling, then you need to get your adhesion fixed.
Get Your Adhesion Fixed!
Integrative Diagnosis Providers specialize in diagnosing pain and fixing adhesion.
This is what treatment looks like to fix adhesion in the suboccipital muscles.
At Barefoot Rehab, we are the only clinic in New Jersey certified (through Integrative Diagnosis) to find and fix adhesion.  Come visit us to stop your weekly headaches.  862-205-4847.
Not convinced yet?
Here's one of our wonderful patients, Christine, who had headaches.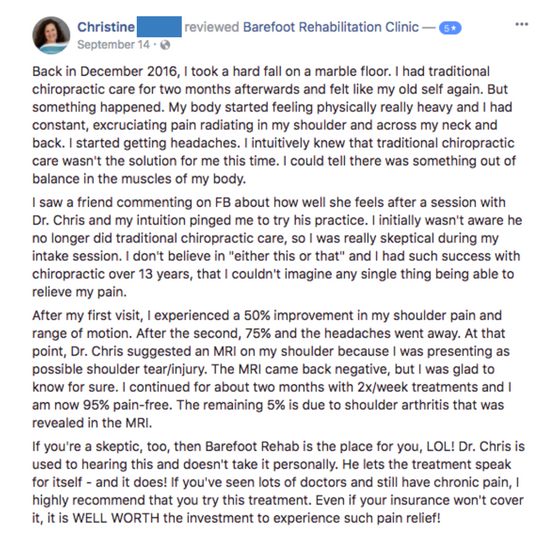 And a recent testimonial who had severe headaches during sleep. He tried chiro/massage for 6 months before finding us to get his adhesions removed.
It's a wonderful thing to go from having a weekly headache for years to getting treated 3-5 times and having no more headaches.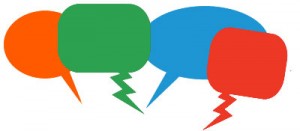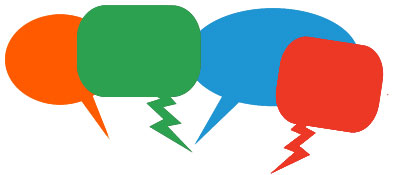 What has your experience been with your headache? How long have you had it? What have you tried? Are you ready to get rid of your headache, once and for all?