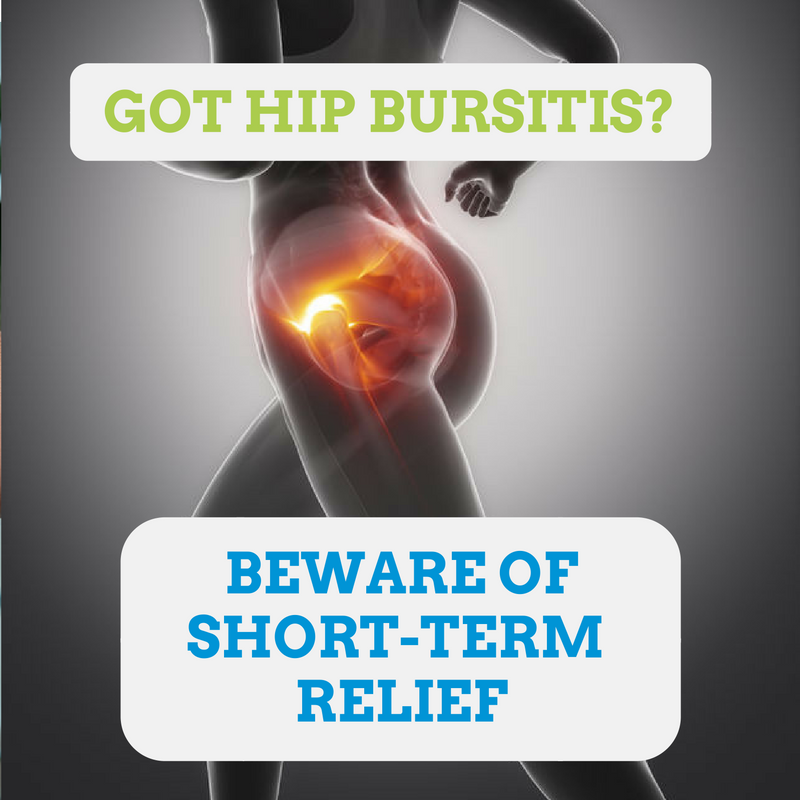 21 Dec

Got Hip Bursitis? Beware of Short Term Relief
Hi Dr. Chris, I have hip bursitis. What should I do to stop the inflammation?
Dear (name),
So, you have hip bursitis?
And you want to get better, quickly, and for good? Without the possibility of relapse?
I'm so happy you emailed.
Now, about your question, "What should I do to stop the inflammation?"
My question back is "Is that really all you want to do, stop the inflammation (and get short term relief only)?"
If you're stuck on that question, then you have options. Conventional physical therapy, chiropractors, and orthopedic doctors are armed with tools to de-inflame you: ultrasound, electronic stim, ice, heat, massage, manual therapy, foam rollers, cortisone, etc.
That stuff's great and necessary. But if you stop with that question along, you'll only get out of pain in the short-term.
If you want to get out of pain and prevent pain in the long-term and stay as healthy and fit as you want into old age, keep reading.
What is hip bursitis?
Every time a patients walk into our office with the diagnosis "hip bursitis," I throw up a little in my mouth. Without any more information behind the diagnosis, the pain is destined to come back due to the wrong treatment for the wrong problem.
Kind of like using a hammer on a screw.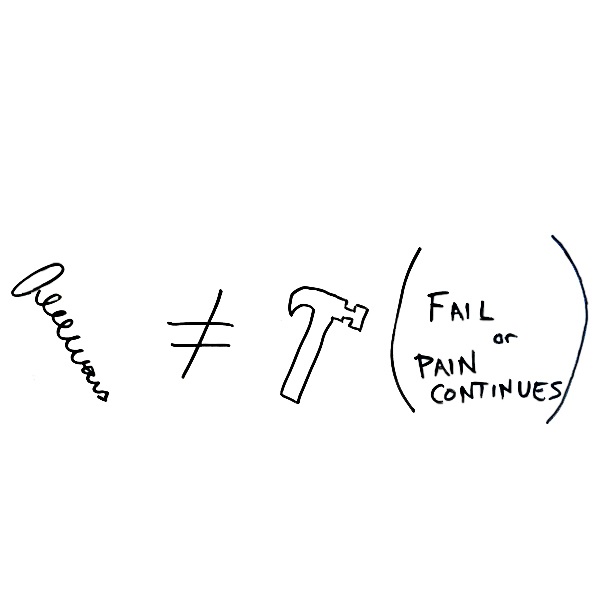 The first reason for my disgust is there is often no inflammation. The "-itis" part of the diagnosis indicates inflammation. The hallmark signs of inflammation are redness, swelling, heat, or pain. If bad enough, you can feel liquid under the skin. In reality, there is usually no visual or palpable evidence of redness, swelling, increased temperature. There is only pain.
Pain, alone, at the hip, is not good enough to be labelled "hip bursitis." Many hip conditions have pain. If you walk in with an MRI that shows inflammation in the bursa, then I'll eat my words because you really do have hip bursitis. This is often not the case for people diagnosed with hip bursitis.
The major, second reason for my disgust, is that "hip bursitis" tells you nothing major as far as why you have hip pain.
When the term "hip bursitis" is used, the location is typically right above the widest, most outside part of your hip.
Symptoms at the widest location may be called "trochanteric bursitis."
Bursitis is when the bursa is inflamed from too much stress, usually from the IT band and its associated muscles pulling extra tight, pushing the bursa excessively into the bone.
I agree that the pain generator, or the tissue that is damaged and pissed off, can be the bursa.
But the pain generator is more commonly not the cause of the problem.
Treating the cause of the problem is key to permanent hip pain-free living. Otherwise, you could become a victim to the Kitchen Sink Paradox. When your pain isn't getting better after 10, 20, or 30 treatments, or after several months of care, you're in trouble.
Key Take-Home Point #1: If all you're doing is de-inflaming and getting treatment for the pain, you're missing the boat.
The Truth Behind Hip Bursitis
The question you should be asking is:
Dr. Chris, I have hip bursitis. How do I get out of pain now and make sure that I never have a hip problem for the rest of my life? Remember, I plan on living to 100!
As a life philosophy, when your muscles are flexible and strong, you can do what you want to do and have little worry about pain.
When muscles tighten and you start to get weak, the rabbit hole to figuring out why you have hip bursitis pain can be very deep.
If you have hip bursitis, it's safe to assume that your IT Band is being asked to do too much work. Working overtime is never fun, even for our muscles. And any muscle that is compensating for another muscle will scream out in pain, at some point.
Why is the IT Band doing too much?
The IT Band is a secondary knee stabilizer when the hamstrings, your primary knee stabilizer, are not functioning at 100%.
To have a fully functionally hip and posterior chain (including the hamstrings), you need to have flexibility in the following tests (you can test all of them in 10 minutes with a friend, a ruler, and an observant eye):
90 degrees (thigh perpendicular to the ground) in your hamstring stretch test.
Your thigh touches your chest in the thigh to chest test.
12″ in the lunge stretch test.
If you don't have full range of motion in any of those tests, the hip joint and the associated muscles are compromised. When one muscle works at 50% function, another muscle has to go from working a normal 100% capacity to 150% overtime to compensate.
In the below image, notice the ankle has been overloaded (the red spill out of the bucket) and is now working at 90% capacity. That means the hips have to compensate and work at 110% capacity.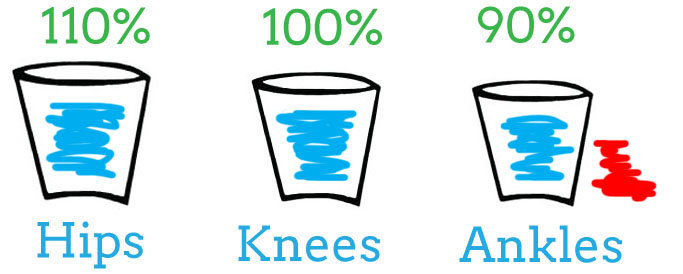 Now, if your hamstring stretch test is 90 degrees, but your knee caves in when you lunge, your hamstrings are weak and your IT Band is compensating.  In the video, the caption cites a sciatic nerve entrapment. The caption is only correct if your range of motion is less than 90 degrees.
If you have true hamstring weakness, any hamstring strengthening exercises will help.
What Should You Do Now?
The function of your joints matters enormously.
The three-step process to getting out of hip bursitis pain for good is:
De-Inflame (according to traditional hip bursitis protocols)
Restore your joint range of motion and function in all relevant lower body tests (the most ignored part of getting healthy and pain-free).
Progressively increase load of all lower body and core muscles (what physical therapy exercises attempt to do).
Because #1 and #3 are common practice, I'll speak about #2 quickly.
You can attempt to stretch and gently do dynamic exercises (air squats, cossack stretch, lunges) for a month to see if you can increase your range of motion. If your range increases, wash, rinse, repeat, and keep doing what you're doing. If your range of motion doesn't improve at all, stop doing it and find out why by getting a diagnosis and undergoing manual therapy. Integrative Diagnosis (ID) providers are the most skilled musculoskeletal practitioners at diagnosing problems and restoring range of motion.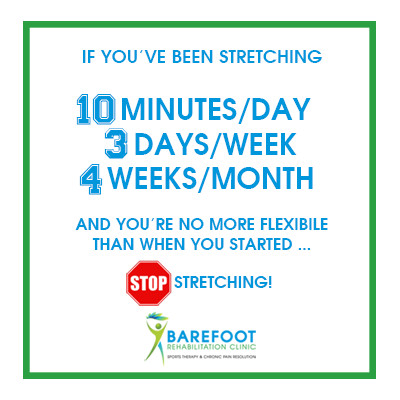 Some strength coaches, chiropractors, physical therapists, and massage therapists can help too. But the percentage of competent professionals in those categories is much smaller compared with ID providers.
Remember, the question frames your behavior and can be the difference between a lifetime of pain-free living and a quickly degenerating joint when you ignore the reason for the hip bursitis in the first place. While conventional de-inflaming is necessary, it's only the start to getting healthy again.
Proceed smartly.
If you live in New York City or Northern New Jersey and you want a humble opinion about your pain and what caused it, please come see us at Barefoot Rehab. We know how to set you up for long-term success.
Love always, Dr. Chris