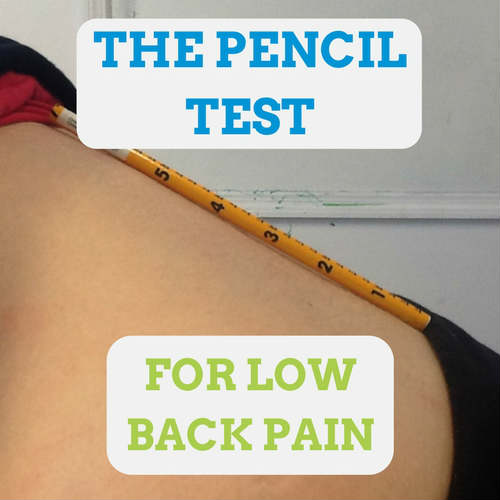 20 Feb

The Super, Simple Pencil Test For Low Back Pain

Once you've had low back pain, I can almost guarantee that you'll do anything to prevent it from coming back again.

Low back pain is one of the most annoying and frustrating injuries to have. The scariness of signs and symptoms ranges from:
dropping to your knees immediately upon lifting a weight.
walking like a duck with your butt sticking backwards or to the side.
not being able to sit, stand, or sleep without severe pain.
a duration that can last anywhere from a few days to over a year.
weakness in the simplest of movements, like lifting your leg to tie your shoe.
numbness or tingling that feels like your leg is plugged into an electric socket.
Due to the above list of signs and symptoms, low back pain sufferers who are still in the midst of their pain or who have recovered (and don't want to forget) will generally do anything they can to prevent it from coming back.
In this post, we'll discuss the pencil test, a 30-second test you can do to assess the your low back, whether you're in pain or not. We'll also discuss what you can and should do about it.
What Does the Low Back Do?
The low back (or lumbar spine) is meant to move in several ways:
flex – like you're touching your toes.
extend – like you're bending backwards.
rotate (slightly) – like you're doing a yoga twist.
laterally flex (slightly) – like you're reaching down to touch the side of your knee with one hand.
By far, the most functional movement the low back does is flex.
Anytime you sit or bend down, or for most exercises you can do, you're spine is flexing, at least a little.
The best way to assess if your low back can flex is with the pencil test, which looks very similar to the cat-cow of yoga fame.
First, here is how you do the cat-cow, which by the way, is a great exercise to safely get relief from low back pain. You have to get the movement right before doing the pencil test. If you make the error of flexing your thoracic spine, it can make it harder for your friend to assess your low back.
If you don't want to spend 3 minutes watching the above video, here's what our normal, resting neutral spine arch should look like. Be aware of how much curve is under the arrow.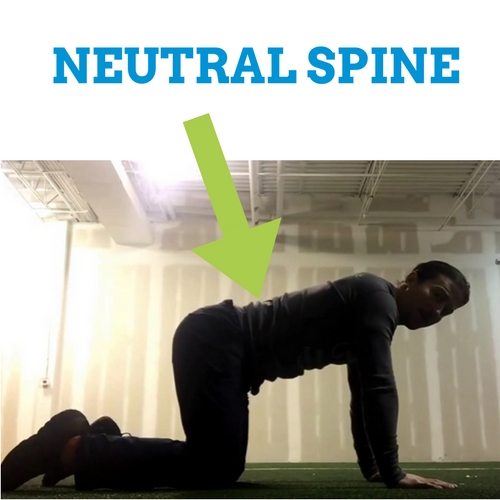 When you arch as much as possible, you have an "extended spine." Notice the larger curve under the arrow. It looks like a "valley."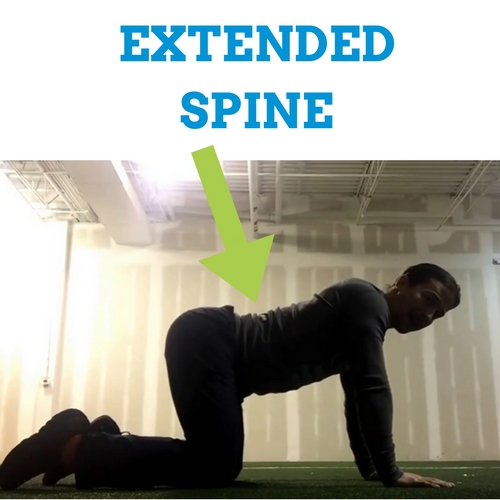 When you contract your abs and stretch your low back, you have a "flexed spine." Notice the curve is going in the opposite direction now. It looks like a "hill."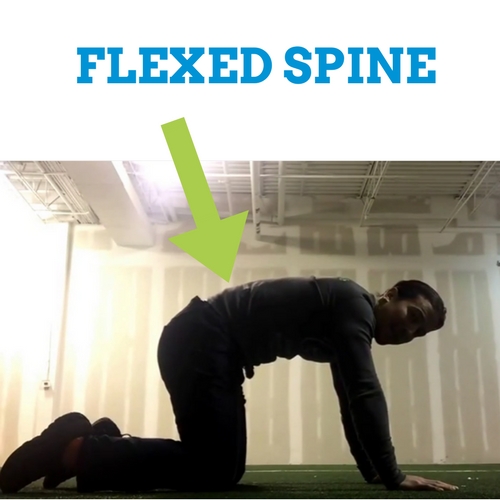 The goal for a healthy low back is to have a nice round "hill" of a low back when doing the "flexed" portion of the cat-cow movement. The "hill-ier" the low back, the healthier/stronger the low back is, and the less risk there is of low back pain injuries in the future.
The Pencil Test for Low Back Pain
The following images are actual patients from our I-Pad archives who came into our office at Barefoot Rehab with low back pain. We document most patient tests through pictures and video. People love to objectively see, with their eyeballs, what the evidence shows.
I'm going to tell you how to do this at home. For now, look at the 5 patients below to see the spectrum, starting with healthier, progressing to sicker, in low back function.
In this patient, the pencil is flat against her low back for 1.5″, then it rounds off. Visualize the space under the pencil at the 2″ mark.  This is a 90% functional low back. That's like getting an "A-" in school.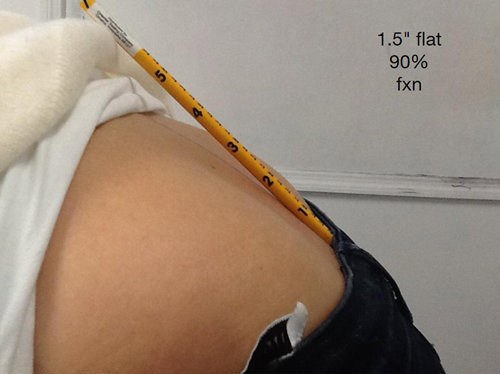 The next patient shows that her low back is flat against the pencil for 3″ before it rounds off. Visualize the space under the pencil at the 3.5″ mark. This is a 75% functional low back for a "C" grade.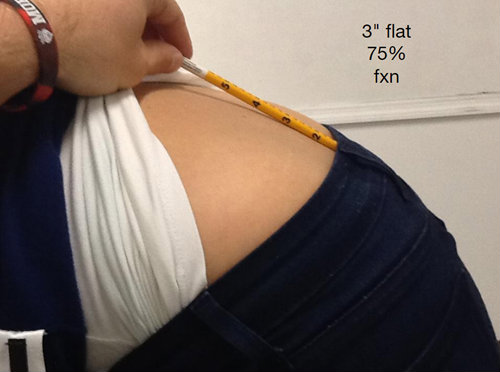 This patient shows 4.5″ of flatness against the pencil with space under the 5″ mark. This is a 65% functional low back for a "D" grade.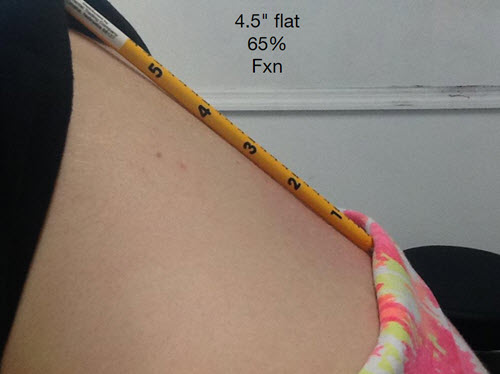 Now, things are starting to get interesting. Anytime there is space underneath the pencil that looks like a "valley" instead of a "hill", it's an automatic "F". This "valley" is known as relative "extension." The size of the valley correlates with how poor the low back function is. In this patient, he has 3″ of a valley (or extension), which is 40% low back function.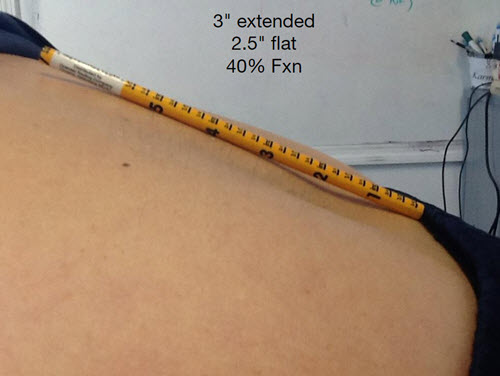 The worst low back cases look like the following picture. Remember, this person is actually trying to create a rounded "hill" of a low back. While adhesion and inflammation are involved, an image like this points at seriously degenerated joints. You'd confirm this finding with an MRI of the lumbar spine.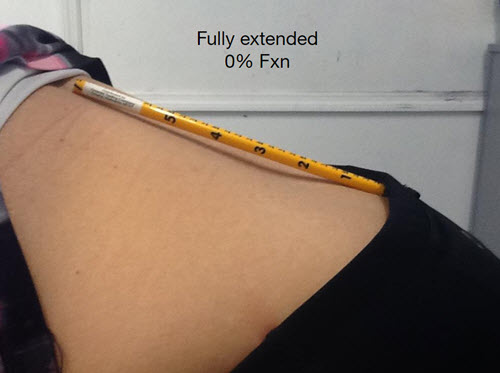 Test Yourself
Yes, we have special ruler pencils in the office to quantify your low back function.
You don't need a ruler pencil unless you want to be precise. That's not necessary for now.
If you want a general grade, get a normal pencil
All you're going to do is judge, with a regular pencil (or pen even):
no space under the pencil (> 60% function or passing grade)
space under the pencil (< 59% function or failing grade)
If you haven't already found a pencil and a friend, do that now.
If you want a more specific grade, get a normal ruler
With the ruler, you'll put it exactly where you put the pencil.
Except now, you'll be able to grade the exact ranges.
Every 1.25″ that is flat is a 10% restriction.
Every 1.25″ that has a valley underneath is a 20% restriction.
A few examples:
0 – 3.75″ flat is a 30% restriction or 70% grade.
0 – 2.5″ space under the ruler is a 40% restriction or 60% grade.
Get on all fours and show your friend where your dimples are.
If they cannot find where your dimples are, sometimes they can the feel bony protuberances there by putting their hands at the spots in the images below and feeling around.
If the dimples cannot be identified, it's somewhat irrelevant where the pencil goes. Tell them not to worry and just put the pencil right on the mid-line of the spine. He/she can move the pencil up and down the spine, scanning for space under the pencil. The most common place for a "valley" is immediately North of the dimples.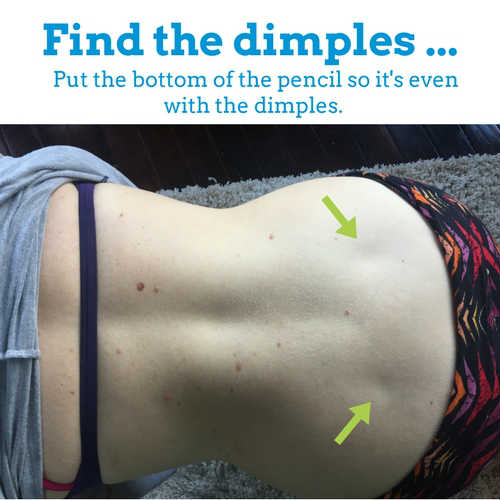 If you have a nice waistline on your underwear or pants that will lock the pencil in place so your friend's hands are free, have them tuck the pencil in the waistline (like most of the images above) and take a picture so you can visualize your own low back. This is enormously helpful in motivating yourself to take appropriate action to respect your low back pain.
A Quick Story About Maggie
Maggie (not her real name) is a 45 year-old mother of four children and husband of an orthopedic surgeon.  She was treated 10 times by Dr. Curtis and I at Barefoot Rehab last year to help her low back.
Over those 10 treatments, she had permanent relief of 30%.
Just last week, Maggie came back in for treatment because it was a new year and she wanted to see if she could get more relief in her low back. Maggie mentioned:
I can't believe that I still have 30% relief six months after the treatment ended. That's not what I hear from people who go to chiropractors. They say you always have to go back to maintain the relief.

(I smiled.)
After sharing her success with the treatment, she mentioned that she wanted to see if she could get more than 30% relief.
At the time of her initial care, we were not measuring or recording (with pictures) the pencil test, so I had nothing to compare her pencil test too.
I measured Maggie's pencil test, took an image, and showed it to her.
Maggie said:
"That's me?" ~Maggie

"Yes, that's you." ~Me

"But, it felt like I was rounding my low back to the max. How's that possible? I thought it was going to be an A grade?" ~Maggie

"Perception is an interesting thing. I don't know what to tell you about what you felt, but the reality of your low back is, as evidenced by this picture, that your low back is less than 50% functional." ~Me
The morals of the story are:
Don't try to judge the test by how you feel. Get a friend to take the picture.
Just because your pain is relatively less does not mean that your low back is healthier – function, flexibility, and strength dictate your health decades down the road. Your level of pain does not dictate your future.
You Have Your Grade, What Should You Do Now?
If your friend saw no space, your low back is healthier and more functional on the spectrum.
You're probably recovering faster than the average low-back-pain-suffering-bear, and there's less risk of injury when you go back to your regular activity, whether that's yoga, cycling, running, or CrossFit. Still, you should go forward and progress your activity slowly.
If your friend saw a space, your low back is sicker and less functional on the spectrum.
You're probably recovering slower than you'd like. If you've recovered already, there's a higher risk of causing more serious damage to your low back. You need to get a MRI of the lumbar spine to visualize how bad it is and identify how big the block with the "X" through it is on your pain graph. Patients will often ask us:
"I have no pain anymore. Do I still need to get an MRI?"
Our answer is almost always "Yes. While your symptoms are better, your pencil test is telling me that this is far from gone. In order to keep you pain-free, we need to know how bad the wear-and-tear on your spine is."
After you get the MRI, you need to get all adhesion removed. Adhesion acts like glue between your muscles, causing tightness and weakness. Getting the adhesion removed will make your low back as functional as can be, given the damage that's already been done to your spine.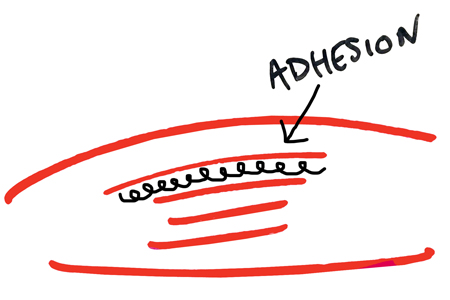 Find a reputable adhesion-removal doctor at Integrative Diagnosis.

What did you learn from the pencil test? Did the picture of your low back change how you think about your low back health? Feel free to share in the comments below.