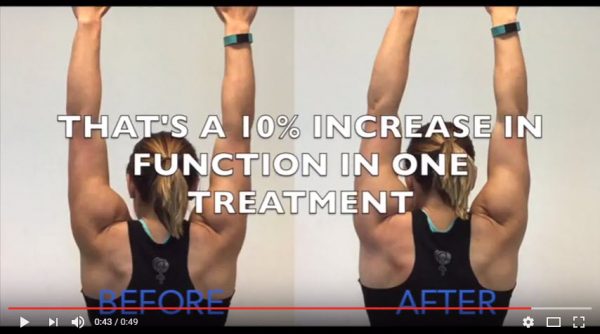 21 May

Want Quick Shoulder Pain Relief? [49 s Video of Effective Treatment]

Do you want quick shoulder pain relief?

How's one treatment for you?
A Female CrossFitter's Shoulder Flexibility
Meg is a female CrossFitter in her 20's. Her goals are:
Increase performance
Prevent injury
As you can see in the video, her shoulder flexibility showed that her biceps were:
3 finger widths away from her head on the left (a 25% restriction)
2 finger widths away from her head on the right (a 20% restriction)
In one treatment, we were able to get her left biceps 1 finger width away from her head (a 10% increase in function, leaving her with a 15% restriction).
You're Not Convinced That You Can Have Shoulder Pain Relief?
You're not convinced?
That's OK, we like proving what's possible to people.
Check this video out of one of our patients who had 10 years of pain, 2 surgeries, and experienced 90% shoulder pain relief in 7 treatments.
Or the pictures of a desk worker whose flexibility was significantly limited until we got our hands on him.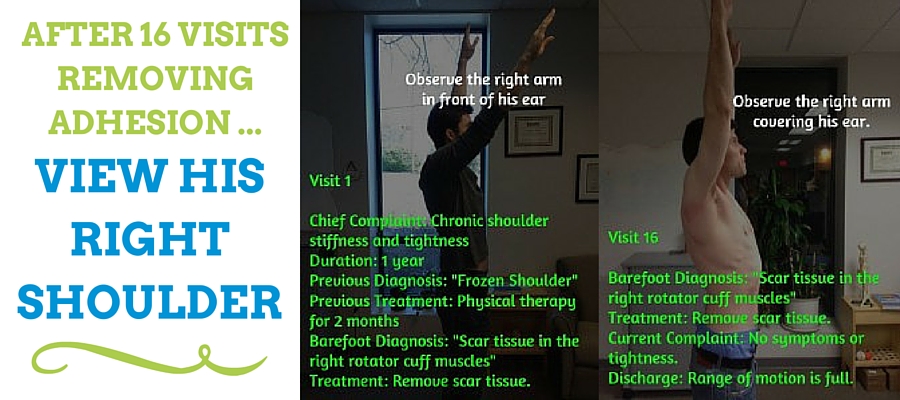 What About My MRI or Arthrogram?
It's absolutely true that we can't fix or get flexibility improvements on everyone.
But what we can do is diagnose you completely so you understand all of the puzzle pieces that make up your shoulder pain or tightness.
Got a labrum tear? You should be very careful with your exercise choices.
Are you medicated for diabetes or a thyroid condition? Your immune system won't heal as quickly as it should, so there are things you can do to heal faster.
Not improving even though you're fit? Maybe you're doing too much exercise and need to back off the intensity.
Feel good with pull-ups, mild pain with overhead squatting, worse pain with push presses? Well, each movement puts a different stress on your shoulder and knowing what those stresses are is important to preventing further damage. In reality, preventing future damage means avoiding a labrum tear surgery or permanently damaging your cartilage.
Feel weak in the back of your shoulder? Well there are 1 or 2 exercises you could be doing that will make that weakness go away.
With all of the puzzle pieces in front of you, you can put the puzzle together in a way that sets you up to be as pain-free as possible decades into the future.
Don't Waste Any More Time or Money
When you're ready to stop wasting time, money, and energy, come see us at Barefoot Rehab.
If you have shoulder pain for a few days to weeks, that's not a big deal. Remember, 90% of acute (lasting up to two weeks) goes away, no matter what you do.
But when your pain has lasted several months, it's time to take your shoulder seriously. Mess around too long and you could be risking permanent damage to your shoulde rjoint.
Ready to get diagnosed and fixed? To experience some shoulder pain relief?
Call us at our Parsippany, NJ office (862-205-4847) or our New York, NY office (929-251-3830).