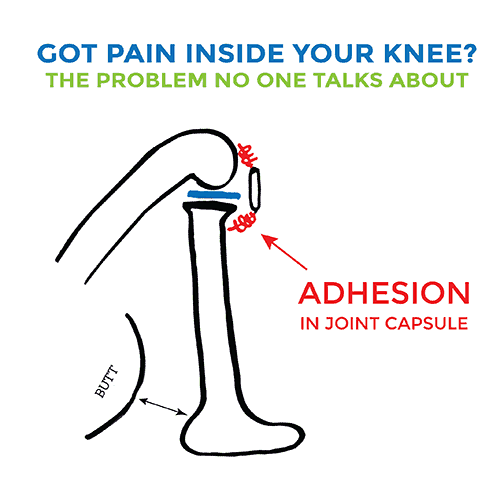 01 Jun

Pain on Inside of Knee? The Problem No One is Talking About

Pain on the inside of the knee can be frustrating, especially when it isn't going away with traditional advice from your friend ("Just ice it") or your doctor ("Go to physical therapy").

Fortunately, some problems can be easier for an Annoying Pain Specialist to diagnose.

If you've have had a trauma, you probably have meniscus or medial collateral ligament (MCL) damage.

Especially if the pain is behind your knee sometimes. It would feel like you put your wallet inside of a door hinge.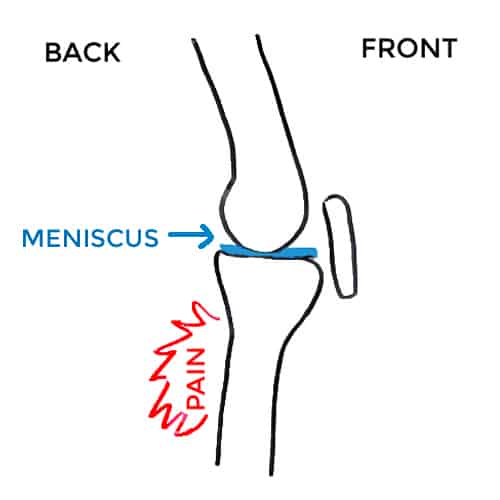 If you're over 50, you probably have osteoarthritis.
These days, more and more people aren't fully trusting their doctors' opinions about the cause and solution to their inside the knee pain problems.
Rightfully so … there's a very common cause of pain inside the knee that no one is talking about.
Before we get there, let's rule out the more common problems.
How To Figure Out If You Have Meniscus, MCL, and Arthritis Damage
Certain problems are easily diagnosed by most doctors.
Trauma is a simple indicator that you need an MRI and have probably meniscus or medial collateral ligament (MCL) damage. Other data points that contribute to these diagnoses include: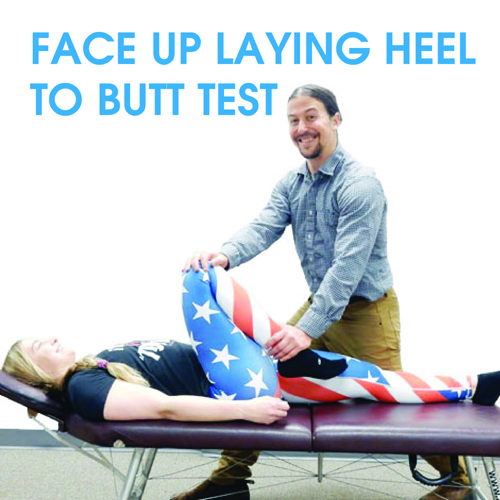 During the heel-to-butt test, a healthy, pain-free knee would let your heel touch your butt the way it does for Amanda above.
If you're over age 50, you could have meniscus or MCL damage. It's more likely that you have arthritis. Arthritis is a garbage can term for bone growth or cartilage shrinking or tearing. Other data points that contribute to this diagnosis includes:
Pain during inactivity that gets better with some activity (and worse with a lot of activity).
The presence of pain/no pain or 

with

/

without

restricted flexibility are not super relevant when you bring your heel to your butt.
The diagnosis of arthritis in the cartilage under the patella goes at the top of your diagnostic list when you feel pain under the patella at the bottom of a lunge forward with your other leg.  If you're not comfortable lunging, you can do the Lunge Stretch Test and have someone pick up your foot when your hip is at the end range of being pushed forward. If there's no pain, you don't likely have articular cartilage damage under the patella.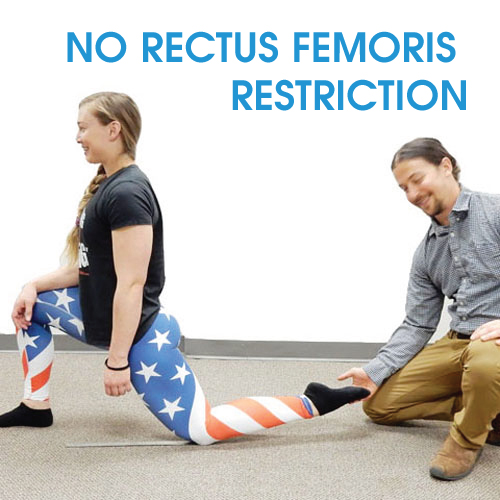 When your pain inside the knee doesn't fit any of these diagnostic puzzles, there's often another problem that is causing your pain. Unfortunately, almost no doctors are talking about this problem. Fortunately for you, this problem is very easily addressed by an expert.
The Problem No One is Talking About
When you've had your pain more than 2 months and you've seen 3-5 other doctors without more than 50% relief, you and I can probably both agree that there's something else going on.
The pain on the inside of your knee can be caused by failed ankle or hip tests.
You would fail any of the following: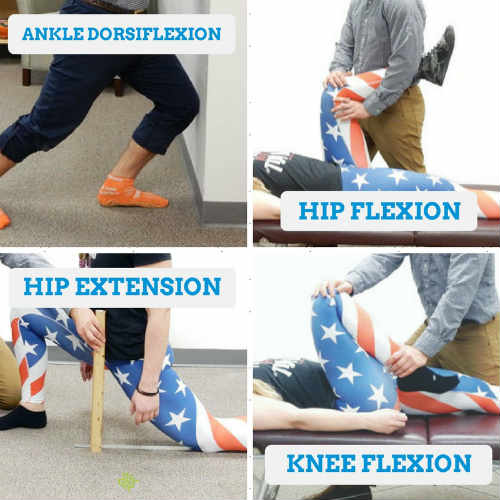 If you failed any of those tests, your knee would start as inflamed and get better with rest.  As time went on and you didn't fix the failed test, you'd be risking the meniscus, MCL, or arthritic damage you currently don't have.
In order to get the failed test fixed and passing so that your knee operates at 100%, you need to find a adhesion specialist to find out if you have adhesion for any muscles that are responsible for stopping the joint in the correlated test.
If all of those tests are passing, the adhesion specialist would look at the knee joint itself.
Adhesion in the Knee Capsule is One of Most Common Causes of Pain On Inside of Knee
When it comes to pain on the inside of your knee, they'd look for adhesion inside of your knee capsule.
The knee capsule is a paper-like sheath that surrounds the whole knee joint (notice the green lines above and below the patella).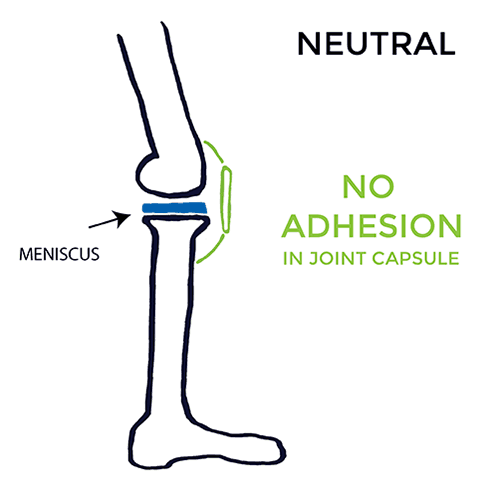 Adhesion acts like glue (red squiggles) in the knee capsule.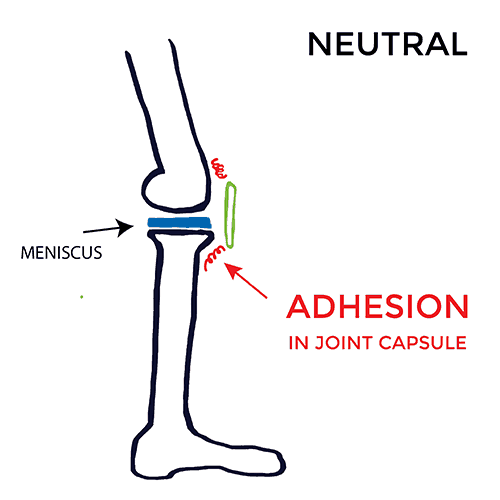 Normally, your heel should touch your butt like it did for Amanda above.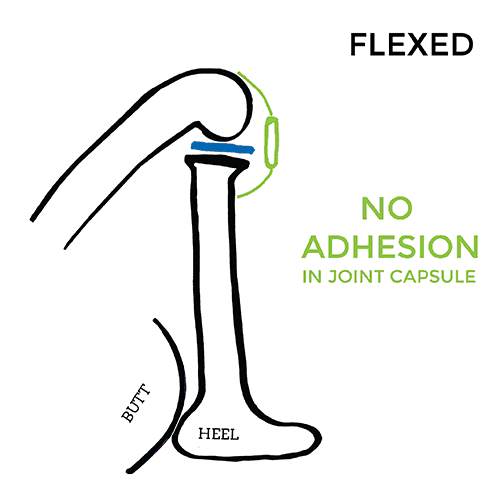 When you have adhesion in your knee joint capsule, you'd feel a slow-building tightness or mild pain in your knee joint with the Heel to Butt Test.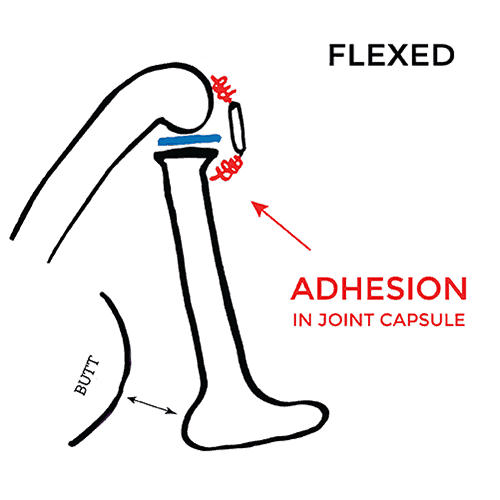 Your range would be restricted too. Amanda's knee flexion range was 4 finger-breadths away (3″) from being full (see picture below).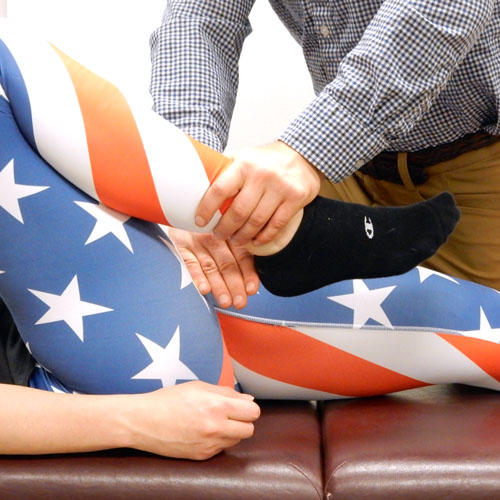 Remember, a restricted Heel to Butt Test that is NOT caused by adhesion, but by meniscus damage, would have moderate or significant pain (that is often "pinching" in nature and felt behind the knee).  When the restriction is arthritis, the pain would typically get better with exercise (not worse).
How to Fix the Pain Inside of Your Knee
When you get the adhesion removed from your knee, you can expect flexibility changes like this: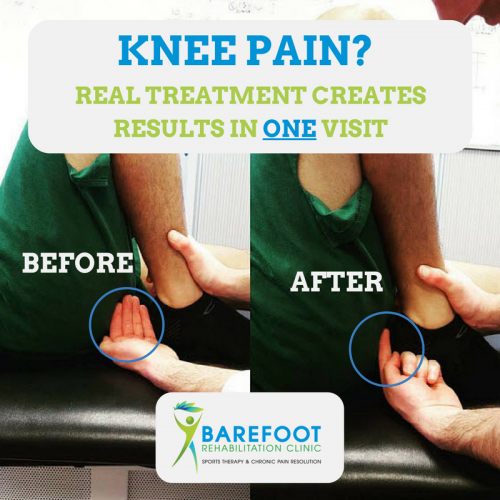 This gentleman's heel-to-butt flexibility went from 3″ to 0.75″ in 5 minutes.
Treatment to get this type of quick and permanent change requires an expert who is able to feel exactly where the adhesion is:
The coolest thing about this type of treatment is that you'd notice relief immediately afterwards.
If You're Going to Do Anything for Your Knee, Make Sure It Works
My heart breaks when people have been getting any pain treatment for 10, 20, or 30 visits without any significant relief.
This type of healthcare is not OK by me.
That's why we have a 5 Visit Rule at Barefoot Rehab.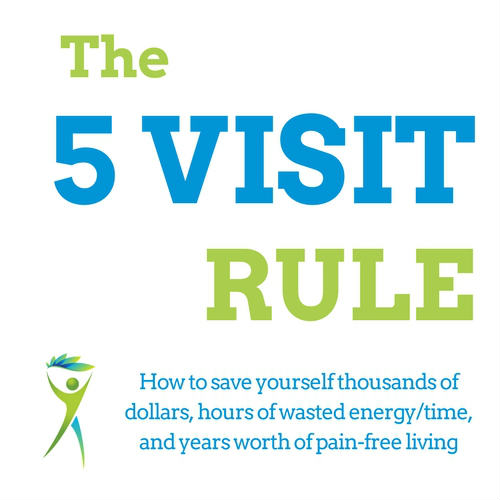 You should notice permanent relief in your pain in 5 visits or less. Often after one visit/treatment.
So if you're going to get treatment for pain inside your knee, make sure it's working. If it isn't, find another doctor or healthcare provider.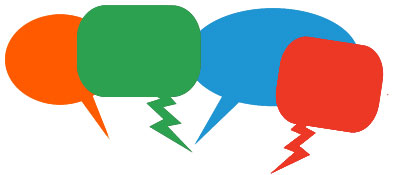 Have you found a treatment that works for the pain on the inside of your knee? Tell us about it.